Security Training Group Orlando Offers Class D and Class G Licensing Options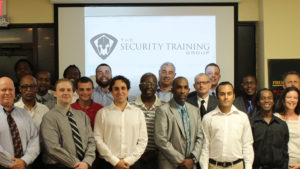 The fast-growing security industry of Orlando and central Florida necessitate well-trained security professionals, and finding the right training can be difficult. It is crucial to get training that provides a firm foundation for armed security or unarmed security, taking world class security training courses to learn the ins and outs of security, and preparing yourself for a varied job field. At the Orlando Security Training Group location, we match the best instructors in the industry (who bring combined decades of military, law enforcement, and security experience) with students and our engaging curriculum. We believe safety is the first aspect of security, so our licensed firearms instructors work hands-on with each student to give them each detail and step they could ever need in the industry, from first aid and CPR training all the way to simple access control help. There's no such thing as too much training, and we make sure that each of our graduates leaves prepared for a full and fulfilling career in security. Contact us now to ask about bundle discounts on security classes, and enroll right away before the next class fills up!
Sign up now for Orlando Course Discounts
We Offer a Variety of Security Courses
We know each security officer will have different needs, but we aim to fill them all. Orlando Security Training Group offers unarmed Class D security license training, armed Class G security license training, CPR and AED certification with the American Heart Association, non-lethal and less-than-lethal certifications, firearms training, CCW training, and more. The more training you have, the more licenses and certifications you carry, the better equipped you are to succeed. There is no such thing as too much training, and Orlando security companies love to hire those with the most to their name! To learn more, give us a call, and we'd be happy to tell you about our curriculum and price options!
Contact us on our website, or call us at 407-479-8681 to learn more. We currently offer our classes and training services to residents of Alafaya, Apopka, Ococee, Winter Garden, University Park, Kissimmee, St. Cloud, Deltona, and Daytona Beach.
Security Training Group Location
6925 Lake Ellenor Dr Suite 102,
Hours
Monday 8AM–6:30PM
Tuesday 8AM–6:30PM
Wednesday 8AM–6:30PM
Thursday 8AM–6:30PM
Friday 8AM–6:30PM
Saturday 8AM–6:30PM
Sunday 8AM–6:30PM