Class G Security License Training Classes in Florida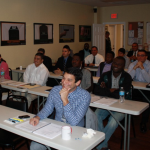 Class G security license training is necessary to become an Armed Security Officer. The applicant needs to undergo the State Firearms License Class. After going through the necessary security training, you can carry firearms. You get the legal permit to use firearms only while performing Security and Investigative Duties.
It is essential to complete the Security D License Class before one could apply for the Class G Security License. It's important to renew The Firearm G License annually. That requires an additional 4 hours training. Failing to renew the license can result in the license being revoked by the State of Florida. And, the person may have to complete the 24 hours of the G License security training course and undergo armed security classes all over again.
Classroom security training – During the  class G security license classroom training, our instructors will teach you about the legal and moral aspects associated with firearms usage. They will also teach about firearms nomenclature, shooting fundamentals, weapon handling, as well as emergency procedures.
Range Training – This training makes the students proficient in handling and firing the weapon.
Requirements –
The student must be eighteen years old.
Must be a US citizen or the legal resident.
Must not have any previous criminal history. Must not have any record of felonies or restraining orders. No prior conviction for domestic violence is a must. Any previous criminal record can disqualify the person from undergoing training and apply for the armed security license.
Proof of legal residence or citizenship is necessary.
After obtaining the Class G Security License, students must complete the 4-hour renewal course every year to maintain/renew it.
Necessary to perform a physical medical test and pass it. Additionally, students also need to clear a firearm proficiency course that entails a target shooting portion and a written exam.
Sign up for Class G security license training Discounts

 Course Packet

Security Training Group Locations
Register for the Security School Near You
Register Here
The Security Training Group 
Office: 866-540-0817
Hours
Monday 8AM–6:30PM
Tuesday 8AM–6:30PM
Wednesday 8AM–6:30PM
Thursday 8AM–6:30PM
Friday 8AM–6:30PM
Saturday 8AM–6:30PM
Sunday 8AM–6:30PM