Florida Security License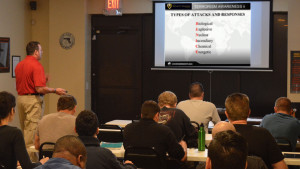 The Class D Security License is required by the state of Florida for any security officer seeking security jobs in the private security industry. An individual can only obtain a Class D Security License if they undergo security guard training at a licensed security school. This unarmed security training will qualify you to obtain the State security license.
The Security Training Group is a licensed security school that specializes in training for security officers. We offer classes that provide fundamental instruction through both engaging lectures and practical exercises. During the security D license course, students are trained in the basic principles of security including patrol practices, physical defense, access control, terrorism awareness, and procedures for emergency situations. Areas for skill development include safety awareness, report writing, customer service, and team cooperation.
Students learn security guard training from the best and most experienced instructors. These instructors are veterans of the US military and law enforcement backgrounds. Our instructors bring unique, real-world experience to the classroom and, with readily available study materials, equipment for use by students, realistic practice scenarios, and a productive classroom environment, our security course provides the most advanced groundwork for students who wish to join the private security industry.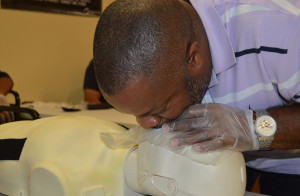 The security license course is a 40-hour long unarmed security program. Students who take our security d license program are issued an official certificate that confirms their completion of the course. Students can then submit their certificate and D security license application to the State. Afterward, they will be issued a temporary D license. Once the applicant receives this temporary D security license, they will immediately be ready to work as a licensed private security officer.
Security Jobs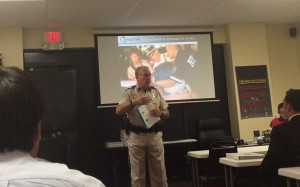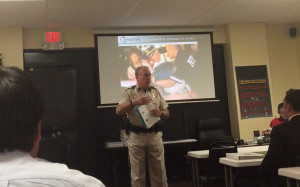 At The Security Training Group, we provide not only security guard training but also employment opportunities for our students. We are connected with many security companies and clients who send recruiters directly to our security school and consistently hire our students. Many of our students are given security job opportunities on the spot with no previous experience necessary. This is because we consider it a priority not to just train our students, but to ensure that they are able to begin their security careers once they have completed our security d license course program.
Pick a Security License School Near you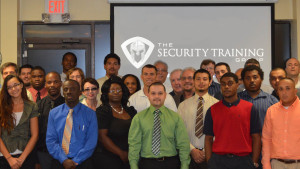 We have several locations available, and each location has a different schedule. Please select the school you intend to complete your training at and register for the dates that best suit your schedule. West Palm Beach, Fort Lauderdale, Miami, Tampa, Orlando, Melbourne, & Jacksonville. We offer classes on weekdays and weekends. The security course is a 4-day, 40-hour program during which students must complete all hours as required by the state in order to graduate and be issued an official security training certificate.
If you have any questions, feel free to contact our knowledgeable security training staff who are available for assistance.
We look forward to providing you the foundation for your successful security career.
Register
The Security Training Group 
Office: 866-540-0817
Hours
Monday 8AM–6:30PM
Tuesday 8AM–6:30PM
Wednesday 8AM–6:30PM
Thursday 8AM–6:30PM
Friday 8AM–6:30PM
Saturday 8AM–6:30PM
Sunday 8AM–6:30PM
UNARMED SECURITY D COURSE

Students will learn the basic principles of security including, physical security, access control, terrorism awareness and emergency procedures. Skill development shall include report writing, interviewing techniques, crime and accident prevention techniques.

ARMED SECURITY G COURSE

Students will learn firearms safety, the principles of marksmanship, firearms mechanics and liability. Skill development shall include marksmanship fundamentals, loading and unloading, the 4-step draw and clearing malfunctions.

HEARTSAVER FIRST AID, CPR & AED COURSE

The Heartsaver First Aid, CPR & AED Course teaches lay rescuers to effectively recognize and treat life-threatening emergencies, including cardiac arrest and choking for adult & child victims.