The Best D and G License Courses in Alafaya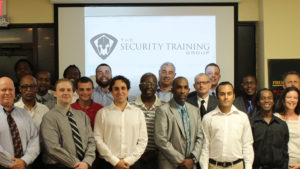 Invictus Security & Firearms Training and S2 Safety & Intelligence Institute have come together to make the super-powered Security Training Group, offering services from Alafaya to all corners of Florida in security training needs. Our security training has been celebrated for over a decade, giving our graduates a level of respect as soon as they leave our security academy. We work to get our students started into their next steps, whether that be starting fresh with a Florida Class D security license or acquiring the firearms training to get an armed Class G security license, we are here every day of the week to provide only the best. We connect veterans of the United States military and law enforcement to our cutting edge curriculum, so each of our instructors showcase valuable insight of on-the-field situations so to best prepare each student. Our individualized and engaging teaching methods ensure that each Alafaya student leaves our security classes feeling confident, safe, and prepared for anything the bustling security field could bring their way! Contact us now to learn more about enrolling in one of our Alafaya training courses, gaining licenses or certifications, or our bundle discount options!
Sign up for Alafaya Discounts
Alafaya and Neighbors, Come On Down!
We at the Alafaya Security Training Group are working every day to teach our students everything they need to know in order to succeed. We train and train and train so that each STG graduate tackles the large Alafaya security field with gusto and feels confident that they will be able to help bring security and joy to their community. Each of our graduates use their licenses with a smile, and will readily tell you about their experiences in our classrooms, learning from the best. It is best to get your security license as soon as possible, even if you are interested in working part time now (we know students have it rough!), so give us a call or email today, we'd be happy to help get you enrolled and on your way to a fruitful and happy career today. The time is now, Alafaya residents.
Contact us on our website, or call us at 407-479-8681 to learn more. We currently offer our classes and training services to residents of Orlando, Apopka, Ococee, Winter Garden, University Park, Kissimmee, St. Cloud, Deltona, and Daytona Beach.
Security Training Group Location
6925 Lake Ellenor Dr Suite 102,
Hours
Monday 8AM–6:30PM
Tuesday 8AM–6:30PM
Wednesday 8AM–6:30PM
Thursday 8AM–6:30PM
Friday 8AM–6:30PM
Saturday 8AM–6:30PM
Sunday 8AM–6:30PM