The Daytona Beach Security Training Group is Here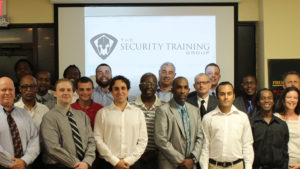 To work any openly armed security post in the state of Florida, one must first earn and maintain an active Florida Class D unarmed security license. Having done that, a Daytona Beach security professional must take a 28 hour Class G security course, pass a proficiency relay on a firing range, and pass an examination to earn a Florida Class G armed security license. We know that this is a lot, and without many good options for security academies in the area, it's even more difficult to know where to start. The Daytona Beach Security Training Group has you covered. At our security training school, students receive the cutting edge curriculum and engaging training our graduates brag about. Along with a team of experienced instructors made up of veterans, we bring recruiters from the best and biggest Daytona Beach security companies so our students get hired before they even graduate – you can't beat our job assistance and employment programs. Contact us now to enroll at our Daytona Beach school and ask us about course bundle discounts!
Sign up for Daytona Beach Discounts
Have Friends Outside of Daytona Beach , Don't Worry!
The Security Training Group has a referral service you can use from anywhere in the state! Our renowned security training curriculum is used from coast to coast, down in Miami Beach all the way through Tampa. You can send your friends to one of our security schools and still benefit. We give you a discount on any future courses or security license recertification and we discount the course they sign up for as well. We love to grow our security family from those interested in unarmed security training through the security professionals who have been veterans of the industry for decades. The Daytona Beach Security Training Group is a staple location for us, but as any large family can tell you, each of us is valuable to one another!
Contact us on our website, or call us at 407-479-8681 to learn more. We currently offer our classes and training services to residents of Orlando, Alafaya, Apopka, Ococee, Winter Garden, University Park, Kissimmee, St. Cloud, and Deltona.
Security Training Group Location
6925 Lake Ellenor Dr Suite 102,
Hours
Monday 8AM–6:30PM
Tuesday 8AM–6:30PM
Wednesday 8AM–6:30PM
Thursday 8AM–6:30PM
Friday 8AM–6:30PM
Saturday 8AM–6:30PM
Sunday 8AM–6:30PM