Security Training School in Miami, Florida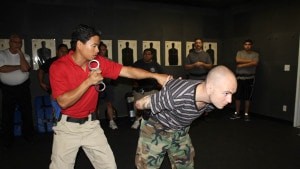 Are you seeking job opportunities as a security officer in South Florida? Welcome to the Security Training Group, the premiere security school in Miami. Our security training school provides the necessary knowledge and skills required to be a licensed security professional in the state of Florida. At our academy, students can expect to receive the highest quality security training to acquire the security license they seek, from unarmed D license course to the armed G firearms training.
The Security Training Group is happy to offer training daily to students in our courses. Our unarmed D license courses and armed G license courses are offered frequently, as to best fit the high demand for security professionals in south Florida, and to accommodate our students' schedules. We offer courses in D licensing, G licensing, and non-lethal; don't forget to ask about our bundle discounts!
All instructors at our security training school are military veterans, or prior law enforcement, bringing decades of real-world experience and extensive security knowledge to every student in our security license courses. Unlike many security schools in Miami, the Security Training Group's security guard training is committed to offering job placement assistance to students and helping them get placed with local Miami companies as a security professional after armed or unarmed security training session.
Sign up for Miami Security Guard Class Discounts
More About Our Miami Training Programs 
S.T.G. has the highest quality training standards in the area and offers the best professional security license training in Miami,  whether a student is looking for unarmed security D license or the armed class G security license. Since 1998, we have trained thousands of law enforcement, military, and security professionals, now some of the most successful security professionals in the state.
Students enjoy knowledgeable instruction from our experienced instructors, helping them become qualified and efficient security professionals. After the completion of the security course, students of the Security Training Group can expect to find quick employment from top companies in the area – we are considered one of the finest security schools in Miami. 
We offer traditional, practical training for all students in the area. Our classes are also accessible to residents of Hialeah, Miami Gardens, Miami Beach, Kendall, Homestead, North Miami, Doral, Coral Gables, Cutler Bay, Aventura, Miami Lakes, Opa-Locka, Tamiami, Palmetto Bay, and Pinecrest. 
Security Training Group 
Location
The Security Training Group
7100 Pines Blvd Suite 25
Pembroke Pines, FL 33024
954-637-3079
Hours
Monday 8AM–6:30PM
Tuesday 8AM–6:30PM
Wednesday 8AM–6:30PM
Thursday 8AM–6:30PM
Friday 8AM–6:30PM
Saturday 8AM–6:30PM
Sunday 8AM–6:30PM