Security Training Group St. Cloud Offers D and G Licensing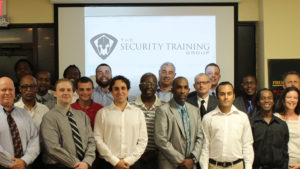 Now that Invictus and S2 have come together to create the Security Training Group, St. Cloud students interested in learning about how to join the growing security industry finally can find a home. The St. Cloud STG security academy offers daily training for any certifications, licenses, or necessary training to excel in the field. To meet the 40-hour state requirement for unarmed security licenses, we offer the Class D security training course to show St. Cloud students how to handle physical security, access control, basic first aid (with CPR/AED certification), and more. Those interested in the challenging 28-hour armed security training can take our Class G firearms training classes to get education on basic marksmanship, mechanical firearm training, dry-fire and muscle memory four-step draw practice, so that each student passes the range. We believe there is no such thing as too much training, so each of our experienced St. Cloud instructors works to give each student a personal and individual lesson-plan, engaging each student to be the best they can be.
Sign up for St. Cloud Discounts
St. Cloud Students, Tell Your Friends!
We love to grow our Security Training Group family, so we at the St. Cloud security school are happy to give referral discounts! The discount will go to your friend, and you will get a rebate back as well. We offer an endless amount of discounts and bundle options, so students benefit from taking both our Class D and Class G security license courses, get their CPR card at a discounted rate, and even get incentivized to come back for our non-lethal security training courses. From unarmed security training to firearms training you know you can count on the Security Training Group.
Contact us on our website, or call us at 407-479-8681 to learn more. We currently offer our classes and training services to residents of Orlando, Alafaya, Apopka, Ococee, Winter Garden, University Park, Kissimmee, Deltona, and Daytona Beach.
Security Training Group Location
6925 Lake Ellenor Dr Suite 102,
Hours
Monday 8AM–6:30PM
Tuesday 8AM–6:30PM
Wednesday 8AM–6:30PM
Thursday 8AM–6:30PM
Friday 8AM–6:30PM
Saturday 8AM–6:30PM
Sunday 8AM–6:30PM