The Deltona Security Training Academy is Perfect for You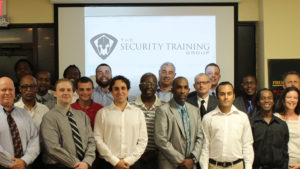 The security industry of Deltona is always expanding, with more and more need for highly trained and prepared security professionals. At the Deltona Security Training Group academy, we pride ourselves in our world-class security training courses that guarantee our graduates employment and excellence. The Security Training Group continues to uphold higher quality services, such that the best security companies in Deltona send recruiters through our classes every week to hire students before they even graduate. The Deltona security field knows that STG students are knowledgeable in first aid, physical security, access control, situational awareness, and more. Confident, secure training is vital to safety of communities. By instilling our Deltona graduates with the preparation and knowledge to be calm and confident, we know that they will each positively impact our community and provide Deltona with the security it most needs. Contact us now to get enrolled and ask about discounts!
Sign up for Deltona Discounts
Feel Free to Ask About Deltona Class Options!
Along with your unarmed security training and firearms training courses, it is important to know about the many types of classes available at a Deltona security school. Your security license will always be your first priority, both to earn your Class D and Class G licenses, but also to remember to recertify your armed security license annually. We at the Security Training Group offer a range of security courses, from basic first aid and CPR/AED training to the marksmanship and firearms proficiency you need on your annual test. There has never been a security school this prepared to help you every step of the way!
Contact us on our website, or call us at 407-479-8681 to learn more. We currently offer our classes and training services to residents of Orlando, Alafaya, Apopka, Ococee, Winter Garden, University Park, Kissimmee, St. Cloud, and Daytona Beach.
Security Training Group Location
6925 Lake Ellenor Dr Suite 102,
Hours
Monday 8AM–6:30PM
Tuesday 8AM–6:30PM
Wednesday 8AM–6:30PM
Thursday 8AM–6:30PM
Friday 8AM–6:30PM
Saturday 8AM–6:30PM
Sunday 8AM–6:30PM