The Best D and G License Training in Kissimmee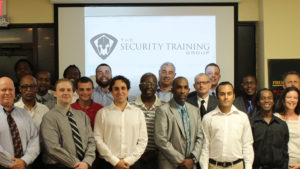 Here at the Kissimmee Security Training Group, we know its difficult to get the necessary security courses and training to enter the security industry. The state of Florida mandates that you take a 40 hour course to begin with an unarmed Class D license, and another 28 hour firearms training course to prove proficiency and get your armed Class G security license. By providing our renowned security training curriculum with experienced firearms instructors, who bring combined decades of experience as veterans of the military, law enforcement, and security, we can promise students unforgettable lessons. Safety and preparation are the biggest steps to effective security, so our lessons are hands on, engaging, and individualized so every student gets what they need to succeed. We at the Kissimmee Security Training Group also are proud to offer job assistance programs and employment assistance, so you can get the eyes of Kissimmee job recruiters for top security companies and join the field immediately. Call us and let us know how to help you get enrolled so you can start this week!
Sign up for Kissimmee Discounts
Kissimmee and Nearby Cities Welcome!
With all the possible security training needs of Orange County security professionals, we know that Kissimmee isn't alone in need of our security school. The Kissimmee Security Training Group offers training options to various cities and students in the area, along with our neighboring locations, so we can guarantee a comfortable training process no matter where you're joining us from. 
Contact us on our website, or call us at 407-479-8681 to learn more. We currently offer our classes and training services to residents of Orlando, Alafaya, Apopka, Ococee, Winter Garden, University Park, St. Cloud, Deltona, and Daytona Beach.
Security Training Group Location
6925 Lake Ellenor Dr Suite 102,
Hours
Monday 8AM–6:30PM
Tuesday 8AM–6:30PM
Wednesday 8AM–6:30PM
Thursday 8AM–6:30PM
Friday 8AM–6:30PM
Saturday 8AM–6:30PM
Sunday 8AM–6:30PM