Security School Florida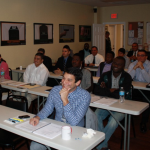 The Security Training Group is the premium security school in the state of Florida. This name is famous for providing high-quality security training courses that go above and beyond all the requirements laid by the state to become a successful security officer and obtain a security license.
The courses that we offer include security D license, firearms training, armed security classes, unarmed security training and several more. Our security school has selected the finest instructors and trainers to offer classroom and field training to each and every one of our students. Our trainers are fully aware of the state requirements necessary to clear the training with flying colors in order to get hands on the security license. This is why we go above and beyond to ensure our students can give a kick start to their career after the training is over.
We design our security course in such a way so that students can gain both practical knowledge and skills essential for becoming a security professional in Florida. We are at the forefront of this arena. We take pride in the fact that countless of our previous students are enjoying a successful career in the security industry.
Training Backed By Structure
Our security school is in partnership with leading security firms which allows us to make sure that our students can grab meaningful employment opportunities in this industry.
We regularly have recruiters from fortune 500 companies who are always in need of quality manpower. Our security school enjoys an incredibly successful placement program.
W continue to offer post-training benefits so that our students can get work after the successful completion of their training
We also offer discount and referral programs
Call Us 866-540-0817
Sign up for Security School Discounts

 Course Packet

Security Training Group Locations
Register for the Security School Near You
Register Here
The Security Training Group 
Office: 866-540-0817
Hours
Monday 8AM–6:30PM
Tuesday 8AM–6:30PM
Wednesday 8AM–6:30PM
Thursday 8AM–6:30PM
Friday 8AM–6:30PM
Saturday 8AM–6:30PM
Sunday 8AM–6:30PM