Security Training Group's Coral Gables Security School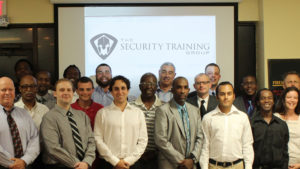 Looking for a nearby security license training academy in Coral Gables? The Security Training Group is your destination- we're renowned as the highest quality security training school in south Florida. Our highly-qualified,  experienced security instructors provide training to new and returning students of the security industry, utilizing our in-depth curriculum to hone our graduates into security professionals.
Our goal at Security Training Group's Coral Gables security training school is to help students combat the challenging situations they may face while working as a security professional, whether in residential patrol or armed prison transport. Realizing the need for world class security training, the Security Training Group continues to run the finest training institutes for Florida residents across the state.
Our nearby academy will help you gain licensing in either unarmed or armed security, along with the knowledge and training to tackle your new career with confidence and comfort. We not only provide training- we implement job assistance to all of our students.
Sign up today for Coral Gables' Security Class Discounts!
About Our Coral Gables Security License Training Courses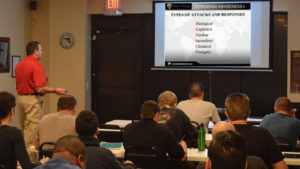 We offer a range of security courses at our Coral Gables school, including Class D security license and Class G security license training, firearms instruction, and less-than-lethal security training. Each of our licensed instructors bring with them prior experience, in law enforcement or United States military, mixing their backgrounds with our curriculum to give each student a realistic look into the environment ahead. Those interested in working with our firearms instructors to gain an armed Class G security license or CCW can feel assured that they will receive individual attention and instruction, so that even those who have never used a firearm in the past will excel and become a trained marksman! As the only institute that uses dry-fire mechanical training before students reach a live range, we are certain that our students will become proficient security professionals.
The Security Training Center also provides our services to students of Miami, Hialeah, Miami Gardens, Miami Beach, Kendall, Homestead, North Miami, Doral, Cutler Bay, Aventura, Miami Lakes, Opa-Locka, Tamiami, Palmetto Bay, and Pinecrest. 
Security Training Group 
Location
The Security Training Group
7100 Pines Blvd Suite 25
Pembroke Pines, FL 33024
954-637-3079
Hours
Monday 8AM–6:30PM
Tuesday 8AM–6:30PM
Wednesday 8AM–6:30PM
Thursday 8AM–6:30PM
Friday 8AM–6:30PM
Saturday 8AM–6:30PM
Sunday 8AM–6:30PM